One of our trip's highlights had rather inauspicious beginnings: a restless sleep on an overnight train, an unexpected 5 am wake up call, almost being whisked away by a souvenir hawker instead of our guide, and pouring rain—when we were about to go trekking for 10 kilometers.
We were in Sapa, a town in the far north of Vietnam, and we had signed up for a three-day, two-night trekking tour through the area's famous rice terraces. But this was far from how I envisioned the first day of trekking to go.
Huddled around half-empty bowls of pho, our local guide Jane asked our group if we wanted to do the full trek to our homestay or if we wanted to take a van halfway there to avoid the rain. Our group, consisting of several people from the Netherlands and one apiece from Canada, Costa Rica, and Germany, all looked around at each other somewhat awkwardly. At some level, I think we all were thinking about choosing the van, but no one wanted to admit it. But finally, we arrived on a "go big or go home" mentality and opted for the full trek: when would we be in Sapa again?
So off we went, up the muddy mountain. Luckily, the rain was not as bad as it looked—we got used to the steady rainfall, and my big poncho did the trick to (mostly) keep me dry.
And while we couldn't see any of the famous views because of the dense rain clouds around us, there was something mystical about hiking through the mist and clouds.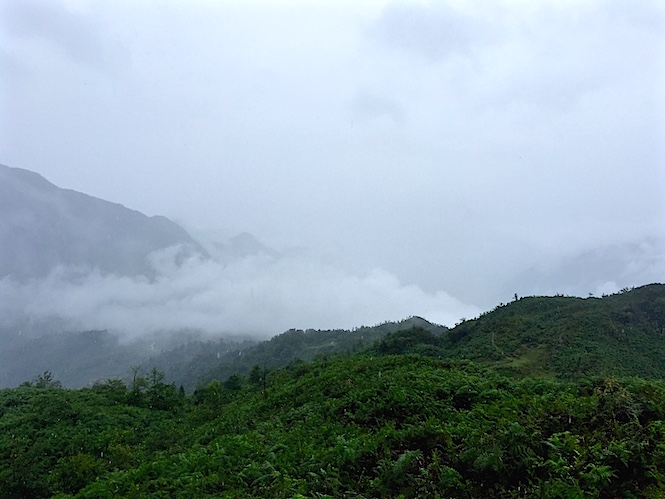 But what wasn't mystical were the leeches! They were on the plants along our path and latched on to our ankles. They didn't hurt and you couldn't feel them, but it was gross and difficult to pull them off, and they could still make you bleed. Our group had regular de-leeching stops whenever we reached a clearing, and only much later did I learn that it's not good to pull off leeches because part of them could get stuck in you, causing potential infections. (But we were fine!)
As the day went on, the rain finally subsided, and we arrived at our homestay much earlier than expected—a welcome surprise to rest our tired feet and take a much needed shower!
The woman who ran the homestay was named Mao, and she lived there with her husband Lee and their children. And in their village, it's a very communal style of living. A lot of their extended family—plus unrelated neighbors—would come around at all hours during the day.
We had a great time that evening having a family-style dinner with Mao's family and our group, feasting on fried spring rolls, steamed veggies, a variety of meat dishes, and a wonderfully spicy tofu dish.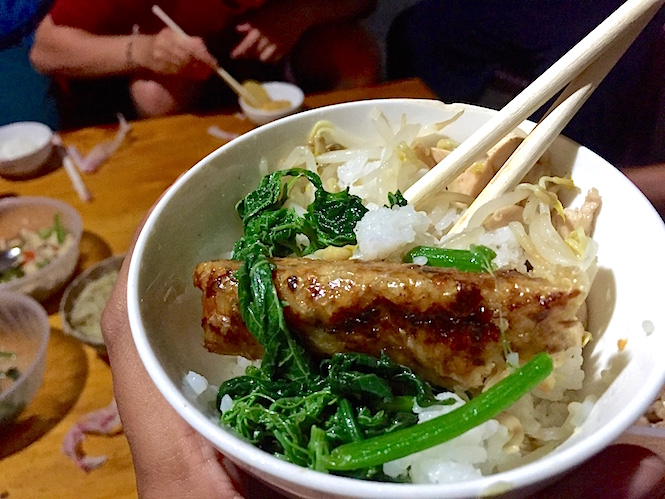 Then Mao busted out the "happy water" (AKA rice wine) for a night of fun drinking games with everyone. (Though I just sipped on the rice wine a bit before switching to beer.)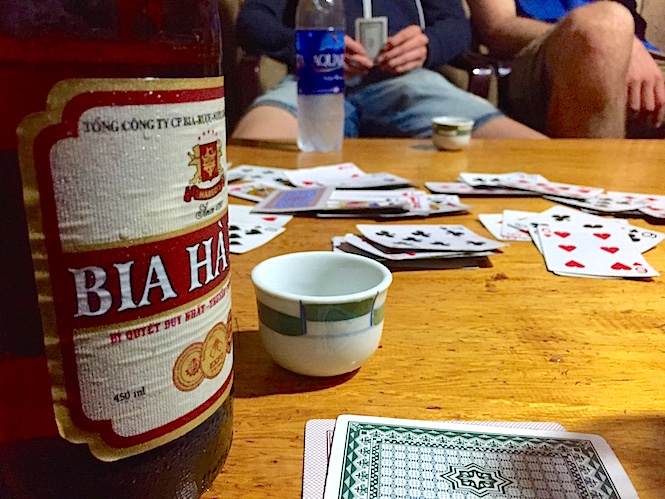 Then the next day, the rain clouds faded away and we were finally treated to breathtaking views of Sapa's rice terraces: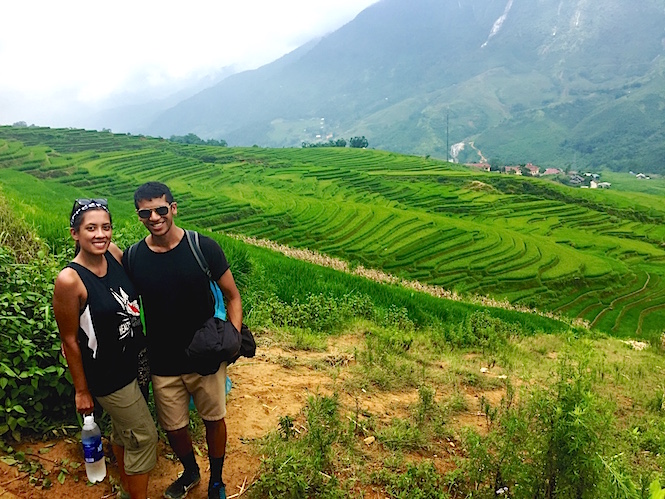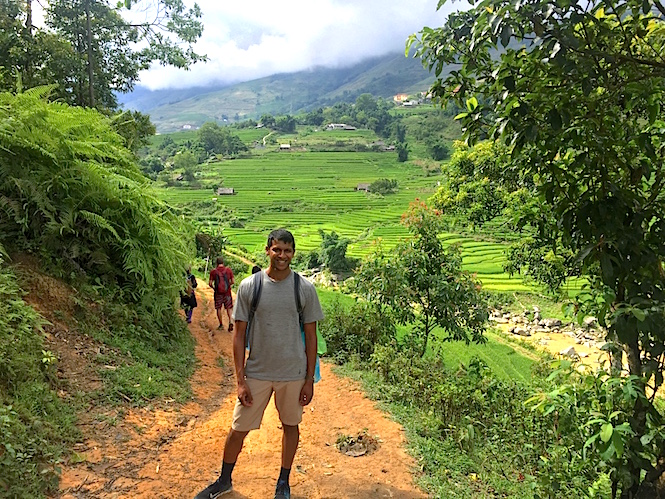 It was almost dizzying to take it all in, with all the curves going off in every direction. And I couldn't believe how expansive it was—there were rice terraces any way you looked, and we were just in one small area of Sapa's countryside!
I loved Sapa because it encapsulated three of my favorite things about traveling: meeting locals and learning about their customs and lifestyles, hanging out with other travelers from different countries, and seeing unforgettable scenery and places around the world. Definitely a highlight of our entire trip so far!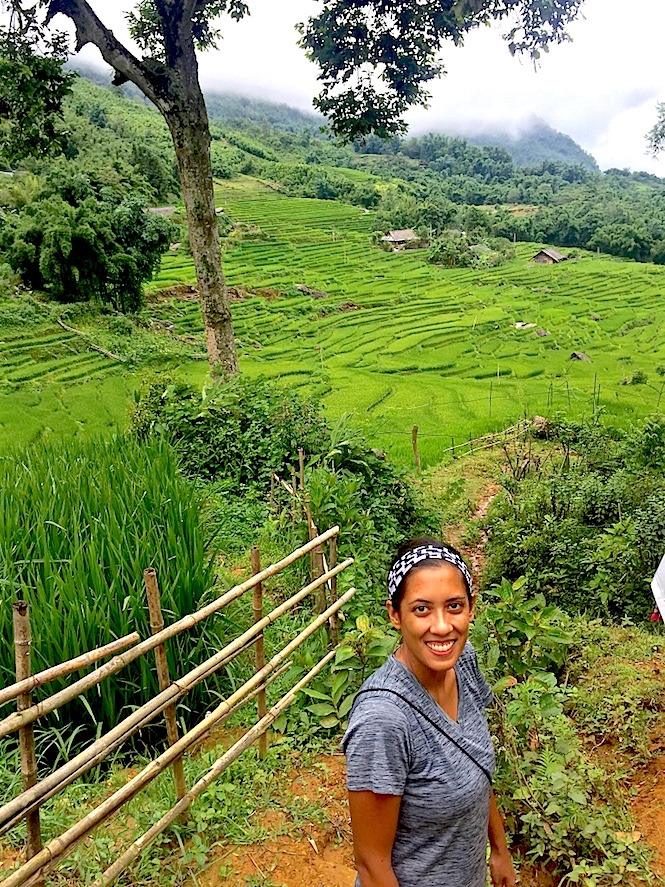 Travel Notes:
We booked our trekking package in Hanoi with Lily's Travel Agency. We would definitely recommend them! The total cost per person was $104, which included roundtrip train transportation, our homestay for two nights, our food, and the guides. Basically, it included everything except drinks. Lily offers a variety of trekking tours, and we loved the one with Mao!

Backpacks can be transported to the homestay from Sapa, so you don't have to carry it all on your back while trekking. However, we left our electronics in a safe at Lily's Travel Agency.

The tour package was cheaper by about $30 per person to take a bus instead of a train, but we heard bad stories about the bus—especially during rainy season. Accidents are not uncommon, and one bus we heard of even got stuck in the mud so people had to disembark and walk part of the way through the mud. So we were happy that we opted for the train.

Sapa can be somewhat chilly at night, so bring layers and long-sleeves. But it was still warm during the day, at least when it wasn't raining!