I ended up really enjoying our time in Hoi An—but not because of its famed and historic Old Quarter.
Don't get me wrong, the Old Quarter was beautiful. It's full of traditional homes, assembly halls, and shophouses built around 300 years ago when Hoi An was a main trading port in the area. Most buildings are a deep yellow with green ivy stretching across the walls and pink and purple bougainvillea circle above you.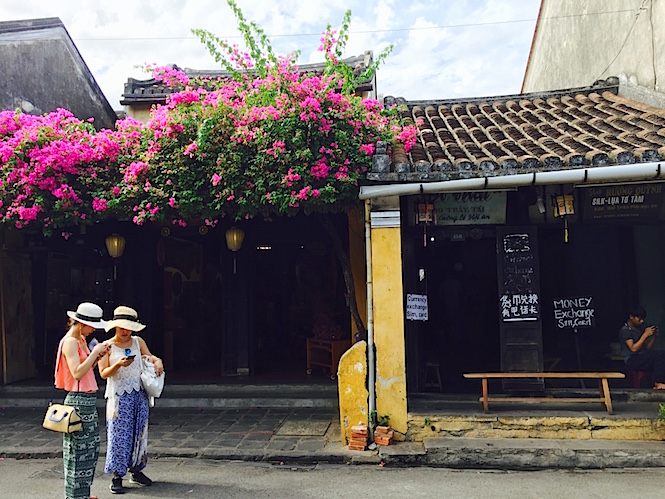 The city is also well-known for its lanterns that make the town glitter and sparkle in an array of different colors at night.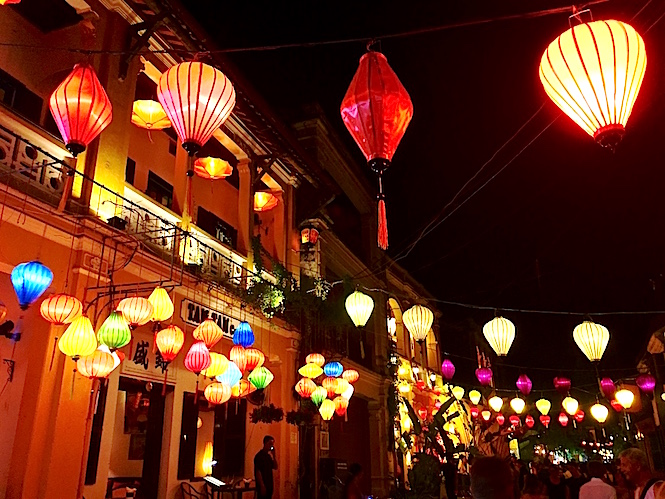 So yes, the Old Quarter can be mesmerizing. But it's also full of tourists, and as someone else described it to me, it has a bit of a "Disneyland" vibe. I didn't really enjoy walking through the stream of tourists, constantly getting in the way of people's pictures and feeling like I was in a place designed for tourism rather than for the local people.
But very touristy places like this always make me feel weird and conflicted, and it's something that Vikram and I have talked about frequently on this trip. First of all, we are ourselves tourists in Hoi An, so it's a bit hypocritical of me to say that I don't want other foreigners to be where I am.
Second, at some level I don't like places like this because a rise in tourism seems to result in a less "authentic" feel to the place—but what does that really mean? It may not be as locals knew it in the past, but is today's Old Quarter any less authentic to the locals? Maybe yes, maybe no, but it's still where many people work and some people live, and tourism is a huge driver of the local economy. Many people's livelihoods come from foreigners patronizing their shops, restaurants, and tours.
(Another thorny issue is how tourism may largely be a good thing but can also drive up prices for locals who don't have the same means as foreigners … but we'll save that for a later post, perhaps!)
Anyway, it's probably clear by now that I have mixed feelings about Hoi An's Old Quarter. But what I have very clear feelings about are the city's other features that make it unequivocally great, and why I loved our five days here:
Hidden Beach
This beach—called "hidden beach", but taxi drivers know how to get there—surprised us with being one of the most serene beaches we've found on our travels this year. I suppose it was unexpectedly great because people had hyped other Vietnamese beaches to us, but really all we needed was right here in Hoi An.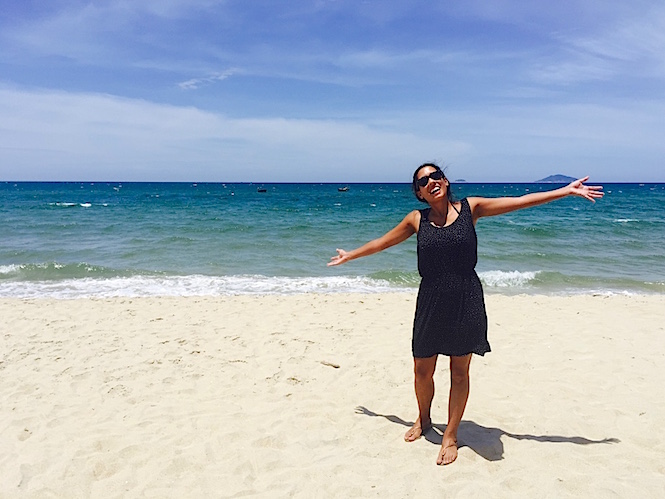 The sand is fine and clean, the water clear and calm. There are several shaded lounge chairs that line the coast and are free to use (or maybe just the cost of a beer, but at less than one dollar a bottle, it's totally worth it). And despite being so lovely, the beach never got too crowded while we were there.
Food (Duh)
Hoi An continued the trend of amazing of Vietnamese food. In particular, we really enjoyed the bánh mì and white rose dumplings.
Bánh mì is the traditional Vietnamese sandwich made with French baguettes and stuffed with your choice of meats, vegetables, and delicious sauces. Our favorite spot in Hoi An to get these was Bánh mì Phượng, made famous by Anthony Bourdain but still a great deal at around one dollar per (big) sandwich—and extremely delicious. The bread is the perfect combination of crunchy outside and soft inside, and just thinking about the grilled pork fillings makes my mouth water.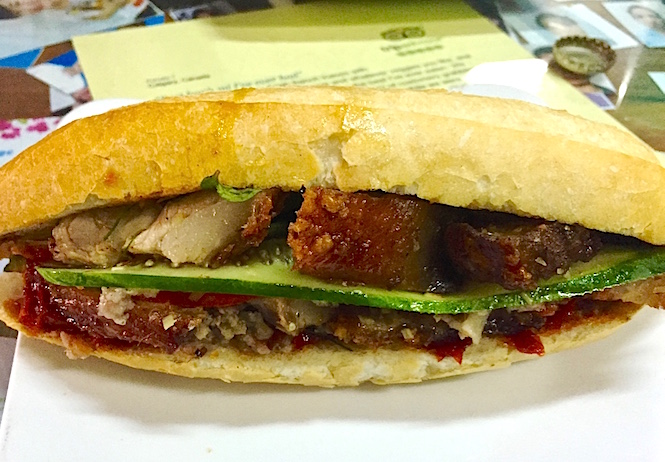 White rose dumplings are a unique dish to Hoi An and are simply shrimp-filled dumplings in the shape of roses. I love all things dumplings, and these were a great treat—very light and delicate, yet bursting with flavor. And the fried onions on top added a welcome bit of crunch. The best dumplings we ate came from Mr. Son's restaurant.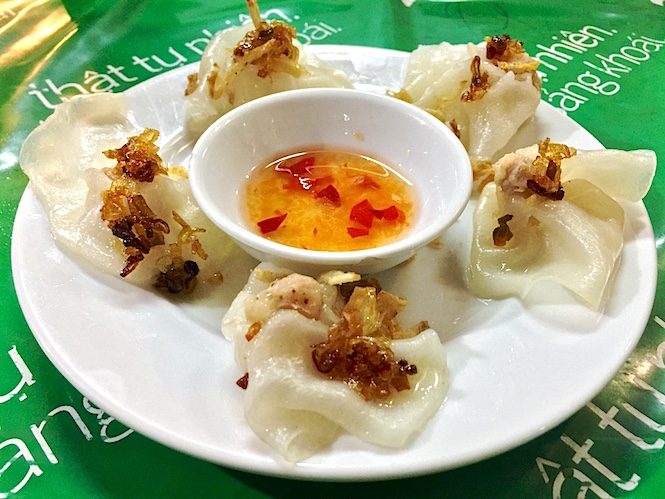 Sac Lo Homestay
As we've discovered often during the past several months, where we stay and the people we're with can make a huge impact on our impressions of a place. Hoi An was no exception, and Sac Lo Homestay ended up being our favorite hostel of the trip so far.
Sac Lo is run by a young Vietnamese woman, Lyna, who seemed to become all of her guests' best friend. I instantly felt at home and at ease with her, a rare occurrence for an introvert like me. There are also no more than ten guests at a time in the house, so it's really easy to meet and get to know other travelers. Lyna's sister also lived and worked at the homestay, and I loved playing with her baby girl Ken!
Our first night in Hoi An, Lyna organized a home-cooked dinner for all the guests: bowls of fried noodles, spring rolls, and pumpkin soup spread out across the floor, and we ate family-style and cross-legged.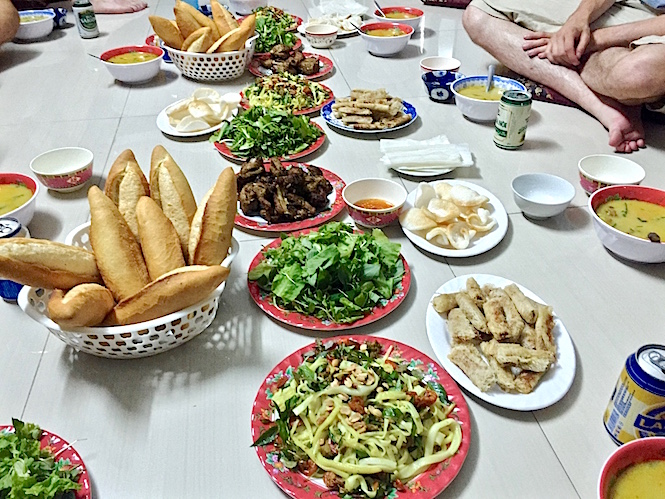 Truly, at the end of the day, it was Sac Lo—and not the famed Old Quarter—that made us fall in love with Hoi An and extend our time there from three to five nights.
Travel Notes:
Technically, tickets are required to enter the Old Quarter (another "Disneyland" aspect of it). In practice, however, tickets are only ever checked when going into one of the museums or old buildings. One ticket costs 120,000 dong and allows for entry into five buildings/attractions. These were fine but could be skippable if you're on a tight budget—it's just as nice to walk around the Old Quarter and take in the sights from the outside instead.
We ended up taking taxis between Sac Lo and the Old Quarter, and it never cost us more than a two or three dollars. Hidden Beach was only a five dollar taxi ride away.  Lyna always called a taxi for us and told the driver where we were going.